Living in the Bronx offers a great many conveniences. Every amenity, within reach. Opportunities to improve your life, at every step. Infinite possibilities for growth, at every corner. However, the list hits a brick wall once it comes to usable home or office space. At that point, the seemingly only option is to start getting rid of excess belongings. But, why would you? You worked hard to get them and now, you should get rid of them? Not on our watch! NYC Mini Storage has all the space you need and ways to keep your belongings safe. All you need to do is get in touch with us and you'll never again think of depriving yourself of things that make you happy. Contact us today and reserve your space in the finest storage Bronx NY can provide.
The most reputable storage Bronx NY has – now at your disposal
"Safety, convenience, competitiveness". These three words may not seem like much. But, for more than 20 years, they were the code we abided by. From the very beginning, we worked hard to ingrain them in our operating methods, standards, and employees.
Even now, when we're at the top of Bronx's storage industry, we do not waiver from that path. As industry and customers standards grow, so do we. We put great effort toward improving our services and premises. The result: one of the best Bronx NY storage services.
With NYC Mini Storage, you'll have a safe place to store your belongings. Conveniently located and easily accessible, it offers everything you're looking for. And, at a price that you won't find anywhere else, it's an ideal solution for your storage needs.
Everything you expect from self storage Bronx, you'll find at NYC Mini Storage
Your belongings matter. Each one, regardless of how big or small, has a greater meaning. Whether it's the smallest bauble or a bulky armoire, it's a part of your life and, thus yourself. That's why we leave nothing to chance when it comes to their safety. To bring you some of the best self storage Bronx offers, we spared no effort or expense. That's why, today, you can count on amenities such as:
State-of-the-art surveillance and intrusion alarm systems;
On-site security personnel, active 24/7;
Options of fireproof and temperature-controlled storage units Bronx NY;
Cleanliness and regular maintenance;
Proactive pest control.
Atop of all that, we also offer third-party insurance. And, yes – we know that, considering everything we just listed, it seems excessive. Nevertheless, we want you to have all the options open. We cover all the bases, so you can have peace of mind.
Store some things, store anything, store everything!
There are so many situations that beg the need for extra space. Maybe you're moving, and need a staging area while you're looking for a perfect place. Perhaps you'll be out of town for a longer period, and you need somewhere safe to leave your car. Or, maybe your business grew beyond its current capacity. And, now, you need some extra room to keep it growing. In other words, not every situation demands the same type of storage, or storing methods.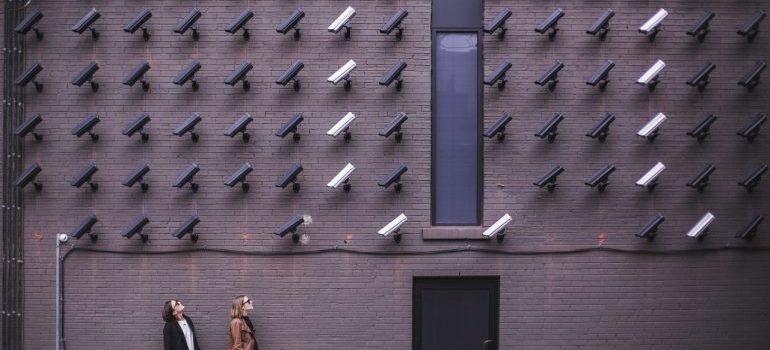 With us, finding the right storage won't be something you'll have to worry about. We offer a full array of storage services, fit for a wide variety of situations:
Now, we know that such a comprehensive list looks intimidating. But, it's not. As we said, convenience is one of our major traits. And, that includes helping our clients choose the right type of storage.
We made choosing the self storage in Bronx NY super simple
Picking the right space for your items is a big decision. Storage units Bronx NY facility of ours holds vary by size and functions. Therefore, not each is the same, and not each one will fit your needs. And, of course, there's always the financial aspect. You don't want to pay more than necessary for your storage. Neither would we want you to. So, how do you pick what's right for you? Our experts made even that easy. It only takes three small steps, and you'll have the perfect storage for your needs.
Step #1: Get in touch with our Bronx NY self storage specialists
They say the first step is the hardest. Well, not in this case. As with everything we do, you have several options here:
In both cases, you'll receive assistance from self storage Bronx experts of ours. Or, if you already know what you want, you can skip it all, and reserve your storage space right away.
Step 2: Arrange for pickup
Once you decide on one of our storage units in the Bronx, it's time to bring your belongings overs. Don't worry, we got you covered there, too. Our pickup services are completely free and will fit your schedule.
Once at our facilities, you will have all the time you need to arrange your storage however you see fit. Our on-premise assistants will be there for you every step of the way, to help you get the most out of your storage.
Step 3: Rest easy, knowing your items are safe and sound
When you're satisfied with how your storage looks and feels – that's it. We'll lock it up, seal it tight, and give you the keys. From that point on, you can rest easy. Our vigilant eye will rest on your Bronx storage units 24/7, and you'll be free to focus on more pressing matters.
Reserve your safe space in the trusted self storage Bronx NY
Times of worrying about your possessions while they're out of sight are long gone. Today, you have NYC Mini Storage to help you cut that problem at the root. No more sleepless nights. No more agonizing over the safety of your belongings. With some of the best storage Bronx NY can provide, you'll have all the peace of mind you need. Contact us today and reserve your safe space.