Living in the Bronx offers a lot of conveniences. Every amenity is within reach. Opportunities to improve your life are at every step, while infinite possibilities for growth are at every corner. However, the list hits a brick wall once it comes to usable home or office space. At that point, the seemingly only option is to start getting rid of excess belongings. But why would you? You worked hard to get them, and now, you should get rid of them? Not on our watch! NYC Mini Storage has all the space you need and ways to keep your belongings safe. All you need to do is get in touch with us, and you'll never again think of depriving yourself of things that make you happy. Contact us today and reserve your space in the finest storage Bronx NY can provide.
What is it like to live in the Bronx?
The Bronx is one of New York City's most vibrant and dynamic boroughs. This area is a fantastic choice for people who commute from other places every day because it has easy access to Manhattan. This place is ideal for people who wish to live close to Manhattan but want to pay less in rent. In such cases, the Bronx is an economical option. Moreover, the borough is alive with music and art. This New York City neighborhood has lots of attractions, including the renowned Yankee Stadium, The Bronx Zoo, and the New York City Botanical Gardens. The Bronx is regarded as the birthplace of hip-hop and rap, as well. Once you have opted for storage Bronx NY's outstanding self-storage options, you will be able to learn even more about this magnificent place.
From an unpopular violent place to the most wanted location in the USA
The Bronx is an area that has developed so much in the past decade, as new housing complexes have been built and parks have been renovated. More are more people looking for affordable accommodation every day and decide to move there. It is a well-known fact that this place hasn't been so popular before, Namely, the borough that was once renowned for being violent. Although it has been a location you didn't want to wind up in before, it has become a very popular place for both families, single, and business people.
Be prepared for high prices
When it comes to the cost of living, the Bronx is placed 40th out of 275 US cities. The Bronx's cost of living is 113% more than the national average, which means that you need to prepare for high prices in case you decide to relocate there. The average rent for a two-bedroom property in the Bronx is $2,200, which is 81% more than the national average. However, depending on the neighborhood in which you ultimately opt to remain, the costs could go up or down. In case you want to save some money, opting for our affordable Bronx NY apartment storage is certain to assist you both financially and help you keep your belongings safe.
Moving to such a busy and expensive place requires hiring storage services
If you are moving from Manhattan to the Bronx, make sure to contact us so that your relocation is as easy and simple as possible. In case you are interested in moving and hiring excellent storage Bronx NY, our team is here to assist you in beginning the relocation process once you have established a budget. We are available to assist you at all times and are prepared to address any queries you may have along the route!
One of the most thrilling experiences is definitely purchasing a new house. Even renting an apartment is a huge breakthrough in everyone's life. However, when you start the moving process, things can switch from thrilling to difficult. Making the most of your move and reducing stress by being aware of this beforehand is crucial. The majority of people might not be aware of the many advantages a storage unit can provide while moving from one home to another. Finding a business that offers both moving and storage services would be perfect when looking for an easy, stress-free, and quick relocation.
If you rent storage Bronx NY units, the protection of your belongings will be top-notch
When you are moving, the safety of your possessions is probably one of your first concerns. When it comes to NYC Mini Storage, rest assured that alarms, security, and surveillance are always present in our storage facilities. You may feel more at ease knowing that our movers and storage units are helping to keep your possessions secure. It is a fact that people fear that someone will take advantage of them while they are in the middle of a relocation. Therefore, bear in mind that one of the biggest advantages of hiring a storage unit is security.
Experience less stress while moving by renting storage Bronx NY
Moving to such a busy and popular place as the Bronx usually entails lots of stress. Since there is a lot of traffic and the moving companies there are quite busy you must find ways to alleviate the whole process and make it easier. The advantages of having a place to keep your possessions while you move can significantly reduce your stress. It makes a huge difference when you don't have to rush or worry about what will happen to your possessions when moving to a place like the Bronx. If you can keep your belongings in a secure setting, the level of stress will automatically decrease. Therefore, you will have more time to deal with other important things that moving to the Bronx entails.
The most reputable storage Bronx NY has – now at your disposal
"Safety, convenience, competitiveness". These three words may not seem like much. But, for more than 20 years, they were the code we abided by. From the very beginning, we worked hard to ingrain them in our operating methods, standards, and employees.
Even now, when we're at the top of Bronx's storage industry, we do not waiver from that path. As industry and customers standards grow, so do we. We put great effort toward improving our services and premises. The result: one of the best Bronx NY storage services.
With NYC Mini Storage, you'll have a safe place to store your belongings. Conveniently located and easily accessible, it offers everything you're looking for. And, at a price that you won't find anywhere else, it's an ideal solution for your storage needs.
Everything you expect from self storage Bronx, you'll find at NYC Mini Storage
Your belongings matter. Each one, regardless of how big or small, has a greater meaning. Whether it's the smallest bauble or a bulky armoire, it's a part of your life and, thus yourself. That's why we leave nothing to chance when it comes to their safety. To bring you some of the best self storage Bronx offers, we spared no effort or expense. That's why, today, you can count on amenities such as:
State-of-the-art surveillance and intrusion alarm systems;
On-site security personnel, active 24/7;
Options of fireproof and temperature-controlled storage units Bronx NY;
Cleanliness and regular maintenance;
Proactive pest control.
Atop of all that, we also offer third-party insurance. And, yes – we know that, considering everything we just listed, it seems excessive. Nevertheless, we want you to have all the options open. We cover all the bases, so you can have peace of mind.
Store some things, store anything, store everything!
There are so many situations that beg the need for extra space. Maybe you're moving, and need a staging area while you're looking for a perfect place. Perhaps you'll be out of town for a longer period, and you need somewhere safe to leave your car. Or, maybe your business grew beyond its current capacity. And, now, you need some extra room to keep it growing. In other words, not every situation demands the same type of storage, or storing methods.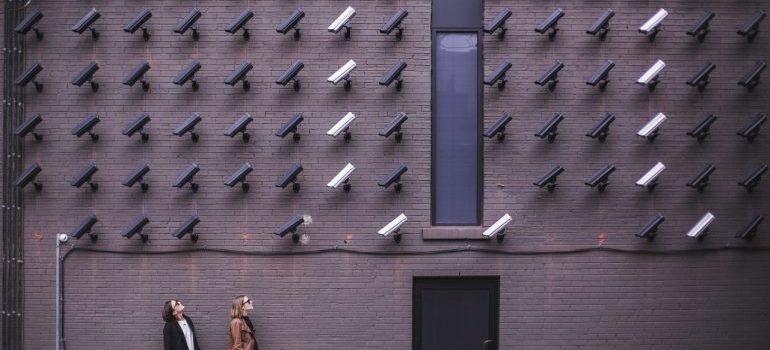 With us, finding the right storage won't be something you'll have to worry about. We offer a full array of storage services, fit for a wide variety of situations:
Self Storage
Apartment Storage
Furniture Storage
Pickup Services
Now, we know that such a comprehensive list looks intimidating. But, it's not. As we said, convenience is one of our major traits. And, that includes helping our clients choose the right type of storage.
We made choosing the self storage in Bronx NY super simple
Picking the right space for your items is a big decision. Storage units Bronx NY facility of ours holds vary by size and functions. Therefore, not each is the same, and not each one will fit your needs. And, of course, there's always the financial aspect. You don't want to pay more than necessary for your storage. Neither would we want you to. So, how do you pick what's right for you? Our experts made even that easy. It only takes three small steps, and you'll have the perfect storage for your needs.
Step #1: Get in touch with our Bronx NY self storage specialists
They say the first step is the hardest. Well, not in this case. As with everything we do, you have several options here:
In both cases, you'll receive assistance from self storage Bronx experts of ours. Or, if you already know what you want, you can skip it all, and reserve your storage space right away.
Step 2: Arrange for pickup
Once you decide on one of our storage units in the Bronx, it's time to bring your belongings overs. Don't worry, we got you covered there, too. Our pickup services are completely free and will fit your schedule.
Once at our facilities, you will have all the time you need to arrange your storage however you see fit. Our on-premise assistants will be there for you every step of the way, to help you get the most out of your storage.
Step 3: Rest easy, knowing your items are safe and sound
When you're satisfied with how your storage looks and feels – that's it. We'll lock it up, seal it tight, and give you the keys. From that point on, you can rest easy. Our vigilant eye will rest on your Bronx storage units 24/7, and you'll be free to focus on more pressing matters.
Reserve your safe space in the trusted self storage Bronx NY
Times of worrying about your possessions while they're out of sight are long gone. Today, you have NYC Mini Storage to help you cut that problem at the root. No more sleepless nights. No more agonizing over the safety of your belongings. With some of the best storage Bronx NY can provide, you'll have all the peace of mind you need. Contact us today and book your safe space.