Space is a prized possession in New York City. That's where Hunts Point storage steps in. As one of the front-runners in the storage industry, we understand the unique challenges of NYC living. We offer solutions for those needs, ensuring you get the best storage in Hunts Point. With our advanced facilities, we have established our reputation as the go-to storage destination in the area. NYC Mini Storage introduces reliable storage Hunts Point NY locals always come back to. Call us today, explore our diverse range of services, and discover the perfect fit for you!
Trust the experienced Hunts Point storage specialists
The safety of your valuables is our primary concern. The right storage choice can make all the difference. At Hunts Point, we don't just offer space – we offer peace of mind. With a reputation built on 20 years of expertise and dedication, we ensure that every item entrusted to us is treated with the utmost care. Our reliable storage facilities are equipped with modern amenities and are constantly monitored, ensuring that your valuables are stored well and protected. Entrust your belongings to the hands of specialists and experience the premium care that only Hunts Point storage specialists can provide.
Hunts Point storage offerings
Our outstanding storage solutions in Hunts Point are designed to meet the diverse needs of NYC residents. We offer:
Whatever your storage requirements, our Bronx storage ensures a tailored approach to match your specific needs. So, give us a call and find your perfect storage solution with us!
Benefits of choosing Hunts Point's top storage
Choosing the right storage can be a game-changer. In Hunts Point, we stand out for all the right reasons. We understand that every storage need is unique. That's why we focus on personalized strategies for every client. Whether you're a business or an individual, we've got you covered. Our approach ensures efficiency every step of the way. Plus, security is our top priority. Our facilities prioritize the safety of your valuables. And it doesn't end there. The benefits of secure storage in Hunts Point services are many. Choose us, reserve a room, and experience the difference firsthand.
Stand-out features of our Hunts Point storage
Our commitment to excellence shines brightly in the feedback from our satisfied clients. Every service we offer, and every space we provide reflects our dedication to premium quality. But we don't just stop at top-tier service – our pricing models are about transparency and fairness. We believe in delivering unparalleled value, ensuring every dollar you spend counts. Whether you have short-term or long-term storage needs, our track record showcases consistent success across various storage challenges. Choosing Hunts Point storage facilities means choosing the best in the industry.
Affordable yet premium storage Hunts Point is proud to offer
At our storage, we stand by a singular promise – delivering unmatched value without compromising on quality. With us, budget-friendly doesn't mean basic. It means combining affordability with first-rate services, offering you the best of both worlds. Therefore, we design our competitive pricing models thoughtfully to cater to diverse needs, ensuring you never have to choose between cost and quality. Experience the difference with the most affordable storage in Hunts Point. With Hunts Point storage solutions, excellence is a guarantee.
Explore the gem of the South Bronx
Hunts Point is located in the heart of South Bronx, sharing valuable connections with neighboring boroughs. The integration allows residents to easily traverse Manhattan, Brooklyn, and Queens, making Hunts Point an epicenter of convenience. Hunts Point houses a diverse community of 12,281 residents. Economically speaking, the area has witnessed significant growth over the past few years.
Industry-wise, Hunts Point wears multiple hats. From being home to one of the world's largest food distribution centers to harboring budding startups, the neighborhood stands as a testament to many opportunities.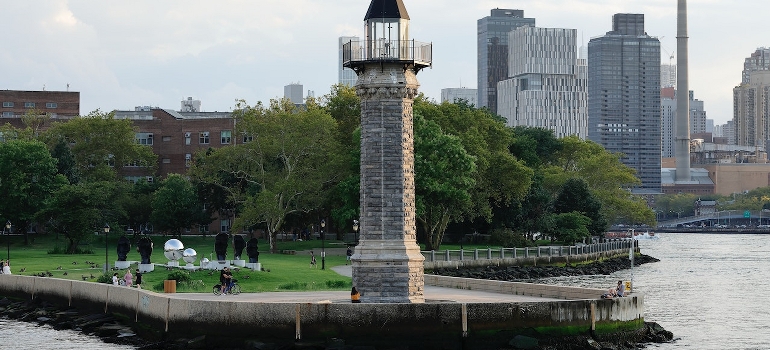 Life here is more than just work. Amenities abound with parks like Barretto Point Park, recreational centers, and a range of restaurants. Transportation, a key component of urban living, is streamlined with subway stations, buses, and arterial roads, ensuring that every part of the city is within reach. The lifestyle, enriched by its community-driven events and cultural festivities, fosters a unique blend of urban hustle and neighborhood charm. At its core, Hunts Point is more than just coordinates on a map. Hunts Point is a pulsating, thriving community – a confluence of history, culture, and potential. It's not just a place, it's an experience.
Choose excellence with NYC Mini Storage
When it comes to safeguarding your valuables, compromise isn't an option. With NYC Mini Storage, you're choosing more than just space – you're selecting excellence. Our reputation as the go-to storage in NY speaks volumes. It's built on years of trust and dedication. We are the storage Hunts Point residents trust. From tailored solutions to unmatched security, we've set the gold standard in storage services. Why settle for less when excellence awaits you? Ready for a seamless storage experience? Contact us now and experience the best with Hunts Point storage!