Storage units have been around for quite some time. They allow Americans to improve their daily functionality without having to part ways with some precious possessions. Thus, if you are currently on the lookout for storage in Manhattan NY that's supposed to assist you during an upcoming project or simply take some pressure off of you, contact NYC Mini Storage. We have put a variety of long-term and short-term storage solutions at your disposal, all of which are characterized by convenience and affordable prices. Our mini Manhattan storage can safely accommodate items of all types and sizes, which is why our solutions will become an indispensable part of your household.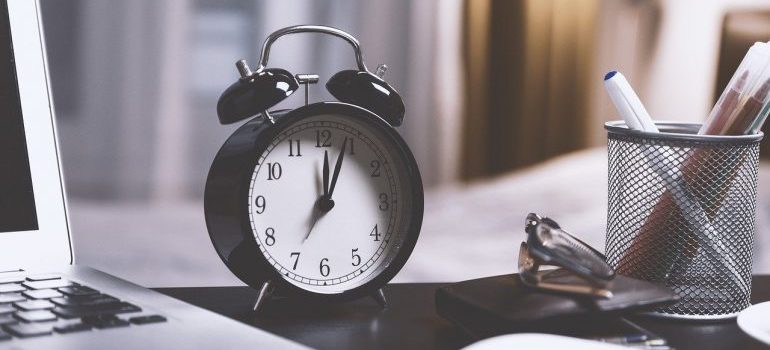 NYC Mini Storage is a licensed and insured storage professional
The storage industry is an ever-growing one. With many new storage facilities popping up all over the city, it might seem like you have many options at your disposal. But the truth is that not all of those companies will be suitable for the line of work they ought to do. In order for one company to be a good choice for you and your items, it needs to have a variety of licenses. NYC Mini Storage is a professional that is in possession of all the licenses that are necessary for this line of work.
Apart from being a licensed and insured professional, we are also a company that offers a plethora of storage services in New York City. Our job was to put a lot of different types of storage solutions at your disposal, but it's your job to pick the right one for you. NYC Mini Storage offers:
Whether you plan on storing your motorcycle or seasonal decorations, you now have the perfect place for doing it. And if you happen to be in need of the best storage units Manhattan has to offer, all you need to do is explore our solutions. We'll provide you with a suitable space where your beloved possessions will enjoy their stay.
Benefits of self storage Manhattan NY offers
Our storage units are the perfect solution for everyone needing additional space in New York City. Having storage facilities in Manhattan and several other convenient locations in NYC, we work hard to provide easy and efficient storage solutions for everyone. And with the prices going up, and the housing market becoming increasingly competitive in Manhattan, people are choosing a minimalistic lifestyle more and more often. With us, you can opt for a cozy one-bedroom apartment in the city, and still rest assured all your belongings are safe in secured, climate-controlled storage facilities. The main benefit of our mini Manhattan storage is that your home will be clutter-free and tidy, and you will be able to save money on rent.
Convenience is the key characteristic of our storage in Manhattan NY
In these hectic times, the last thing people want is to spend hours driving back and forth to a storage facility. After all, why should you spend your precious time on such a mundane activity when you could invest your time wisely? We here at NYC Mini Storage want you to use every second of your time wisely. That's why we offer storage locations that are close to public transportation and highways, making it easy for you to use our Manhattan storage in NYC. Bear in mind that you can completely forgo any driving by opting for our pickup services in Manhattan. You'll pack your items, we'll pick them up, and drive them to the right destination.
The great news is that our company works seven days a week, as we want to provide you with the right storage solutions as soon as you need them. We also offer free and unlimited parking to all of our customers, which lets you visit our storage facilities Manhattan residents love at your convenience. Contact us and work with a storage provider that has thought of everything.
Get access to sufficient storage space in Manhattan for your needs
Nobody can predict how much space you might need. At times, not even you will be able to calculate which size of storage unit to get. But with our Manhattan storage units, the one thing you will have is options – and lots of them. We offer storage units in different sizes, allowing you to rent everything from a small storage unit to an entire floor. We'll trust that you know best what it is that you need.
Of course, in case you aren't sure which size of self storage Manhattan unit to get, you are always more than welcome to consult our team. That's precisely why we have on-premise storage personnel that is available for complete assistance and full guidance. Storing your possessions shouldn't be a problem. Rather, it should be a solution to your problems. We don't hesitate to help you find just the right solution for your biggest problems.
Choose the right storage plan and enjoy our cost-effective prices
NYC Mini Storage wouldn't be one of the most favorite storage providers in New York City had we not created a range of services and storage plans. The Manhattan storage NYC locals trust is characterized by versatility, as well as affordability. We are a company that is known for our competitive rates that allow you to rent a storage solution for as long as necessary. Forget about the days when you had to overpay for a storage unit – they now belong in your past.
As we are proud of our low rates and high standards of service, we let you get an accurate estimate of your upcoming costs. Simply request a free storage estimate from our team and get an accurate idea of what our prices are like. Our company also offers special prices for people who are thinking about using our storage space in Manhattan for the first time. Likewise, we also offer convenient payment options and long-term price packages, making storage an affordable and rather necessary endeavor.
NYC Mini Storage has taken extra measures of precaution, making our storage in Manhattan NY 100% safe and secure
When it comes to storage, we are fully aware of the fact that safety is the operative word. After all, what's the use in storing your items only to find out that they have been broken and/or damaged? With NYC Mini Storage by your side, these aren't the types of questions you will have to ask yourself. Our company has taken the security of our Manhattan storage NYC facilities to another level, as we didn't want to take any chances. Thus, besides different protection options that are available to our customers, we have also taken the following actions:
Our company has installed surveillance cameras that protect every corner of our facilities.
We have introduced intrusion alarm systems into our mini Manhattan storage.
There is a 24-hour on-premise guard securing our facility and your property.
Whether this is your first time renting a storage unit or you've been around the block a few times, you probably know that making sure your items remain protected is your primary goal. With NYC Mini Storage and the proactive measures we have taken, you won't have to experience sleepless nights. There's always someone watching over your most delicate and valuable items. Reserve your room today!
We keep your Manhattan self storage unit clean and pest-proof
Unfortunately, the challenges that lurk are many. Protecting your items from robbery and theft is a great first step – but it isn't merely enough. In order to ensure that your belongings get full protection, we make sure to implement monthly proactive pest control services. Our company is always watchful for pest infestation, as there's no sight worse than seeing mice and insects crawling all over your most cherished possessions.
All of our storage facilities in Manhattan are clean, regularly maintained, and well-lit. Good lighting works as an added measure of protection that keeps you away from any injuries. Contrary to what you might believe, injuries inside storage units aren't a rare sight. Most of the time, they happen due to bad lighting and dim lights. There won't be a place for such worries with NYC Mini Storage.
Boost the safety of your items with the climate controlled storage Manhattan adores
We have certainly taken all the necessary steps to make sure that your items stay safe while in storage. However, there are some items that are more prone to damage than others. Usually, they are also more valuable – both in an emotional and monetary sense. Once such items are in question, you don't need only a regular storage space Manhattan has to offer – you need our climate-controlled storage units. All our storage units have special features that provide extra protection for delicate pieces.
As the name of these units suggests, these Manhattan storage units regulate the temperature inside the unit. Considering the fact that weather in New York can go to extremes, the climate-control features can turn out to be indispensable. The units also protect against humidity and keep your items safe for longer periods of time. While our climate controlled storage Manhattan residents love is great in all situations and circumstances, it's absolutely necessary when storing artwork, musical instruments, antiques, and collectibles. Of course, you are welcome to store even something as simple as Christmas decorations in our Manhattan climate controlled storage – there are no limits.
Customer satisfaction is our number one priority
A company of our caliber has many goals and priorities. However, with NYC Mini Storage, nothing will ever take precedence over our customers. You'll notice that our storage units Manhattan clients love are completely geared to fit your needs. Apart from being clean, safe, monitored, and affordable, our units are also open to all our customers and all of their possessions.
We here at NYC Mini Storage care about upholding our good reputation. That's why we'll try extra hard to cater to all of your needs and provide you with the services you are expecting from us. The exception is that we won't try to meet your needs – we'll try to exceed them.
Retrieve your items out of our Manhattan NYC storage units whenever necessary
Some things are impossible to predict. At the moment, you might have a huge need for storing your items, and you might believe that the need will linger for quite some time. However, you might find yourself in a completely different situation a few months down the line. What happens if you need to take items out of our storage facilities Manhattan finds convenient? It's simple – simply give us a call and let us know that your needs have changed. We are a flexible storage provider that adjusts our services to your needs.
The only thing we require of you is to contact us at least two hours before you plan to pick up your belongings. Moreover, if you are planning a Sunday pick-up of your items, please inform us about your intentions the day before. The reason behind this request is a very simple one – we want to get everything ready before your arrival.
Our company isn't the one to waste a minute of your precious time. So instead of getting our self storage Manhattan units ready for the retrieval of your items once you arrive and having you wait around, we prefer to do so ahead of time. Spend your hard-earned money on Manhattan storage solutions that will prove to be indispensable in the days to come.
About Manhattan
Manhattan is one of the most world-famous boroughs in NYC, and definitely one of the most popular ones. With the diversity, entertainment options, affluent neighborhoods, best shopping, top-notch public schools, and elite private schools, you will find everything and more in this borough. Some of the best neighborhoods in Manhattan are SoHo, Upper East Side, Chelsea, East Village, Tribeca, Greenwich Village, Lower East Side, Harlem, Chinatown, and Hell's Kitchen.
All the most iconic parts of The Big Apple are located here – from Times Square, the Empire State Building, and Broadway to Fifth Avenue and Central Park. People don't mind the crowd and noise, it's a part of the New York City charm. And despite being home to several of the most expensive neighborhoods in the city, Manhattan remains one of the most sought-after parts of NYC. When you decide to move here, there is some information you should research beforehand, such as:
the cost of living
housing
employment
The cost of living in Manhattan
Living in Manhattan isn't exactly affordable. Yet, people have been flocking to the area with the same intensity for years now. The reason is that, despite being expensive, this borough offers spectacular opportunities. Whether you are looking for good schools, great jobs, or the best space for your new business – Manhattan is second to none. However, the cost of living in Manhattan is 120% higher than the US average and 100% higher than the New York state average. Groceries are 20% more expensive than the national average, as well as healthcare. However, housing is by far the main factor that makes living in Manhattan so expensive.
Housing in Manhattan
Manhattan rent and house prices are notoriously high. While there are more expensive and less expensive neighborhoods, on average they are all on the higher end when it comes to pricing. The median home price in Manhattan is $1,144,100, which is well above the national average of $291,700. In fact, housing in Manhattan is 292% more expensive than the US average. The average rent in this borough is higher than it's ever been, and currently, it's $5,249 but it keeps increasing. Because of that, people usually aim to find a small studio or one-bedroom apartments. That's where the self storage space Manhattan offers comes in handy.
With additional storage in Manhattan NY near your apartment, you don't have to worry about clutter. That is why we aim to have storage facilities in several convenient locations throughout the city. Get reliable and affordable self-storage Manhattan residents know well.
Employment in Manhattan
The job market is one of the most attractive aspects of living in Manhattan. New York City's economy is one of the strongest in the country, and Manhattan is the epicenter of it. No matter which industry you want to work in, here you will find supreme employment options.
Big corporations and small businesses alike compete in getting the best office space in Manhattan, which is what the borough does best. If you too are thinking about starting a business, you know why neighborhoods such as Midtown and the Upper East Side are so popular among entrepreneurs. Similarly to housing prices, the average office rent in Manhattan is also high. The median office price is $57.54 per square foot, but it goes as high as $83 in neighborhoods like Midtown.
With such a competitive market, it's only natural that you want to choose the best location for your small business. That is why having additional storage for the items that aren't essential in the office is great. With climate controlled storage Manhattan entrepreneurs love and trust, you too can have a clutter-free workspace without having to rent a bigger office.
Contact NYC Mini Storage and get a trusted provider of storage services that will care about your needs
Finding yourself in need of storage in Manhattan NY is something that will happen sooner or later. Once it does happen, it's good to know that you have an affordable and safe solution at your fingertips. Don't hesitate to contact NYC Mini Storage no matter the type of items you have to store. It's going to be our pleasure to keep your items safe for as long as necessary. We'll do so at cost-effective prices that you will be able to afford.