Commercial Storage
Reorganize your business with our commercial storage units in NYC for your surplus merchandise, supplies, and inventory.
Finding a suitable short-term or long-term home for your valuable commercial items is a task that comes with a lot of responsibility. You need to ensure that you store your items in a clean, safe, and spacious storage solution. When in need of some of the safest commercial storage units NYC has to offer, you ought to pick up your phone and contact NYC Mini Storage. We have high standards and competitive prices, giving you a mix of qualities you can't beat. Feel free to store all types of commercial belongings and industry-related equipment in our units. Consult with our storage professionals in order to choose the optimal plan for your needs and get access to a variety of special offers that we give to our new customers.
Safety is the main feature of all of our commercial storage units in NYC
NYC Mini Storage is a fully licensed and insured company that has earned the trust of our customers. In fact, there is a good reason why our past customers return to us time and time again when in need of reliable business storage NYC provides, and that's safety. Our company has taken all the necessary steps to ensure that your commercial items stay protected while inside our business storage units in NYC. Not only do we offer different protection options for all of our customers, but we also have a 24-hour security guard securing our premises and, therefore, your items.
If you know anything about us, then you know that we are a professional that doesn't leave anything up to chance. Thus, we have installed professional surveillance cameras, as well as comprehensive intrusion alarm systems. We believe that we have taken all the necessary measures to ensure that your commercial equipment stays out of harm's way.
However, we know that theft is merely one of the many safety concerns that plague our customers. To ease your mind, as well as protect your property from pests, we inspect our entire building once a month. Proactive past control service is how we manage to keep you from encountering any unpleasant sights upon entering your NYC commercial storage unit.
Use our NYC business storage for as long as necessary
With so many different reasons as to why you might be in need of storage, we didn't want to put any time limitations on our services. Quite the contrary – we let you be in charge of the duration of the storage rental agreement. NYC Mini Storage offers both long-term storage and short-term storage plans, both of which are of good use during different circumstances.
In case you aren't sure which option is the right one for you, feel free to consult our team. We'll be happy to provide you with a free storage estimate, help you choose your storage plan, as well as be of service to you for all intents and purposes.
Enjoy the convenience and easy access of our commercial storage units in NYC
Convenience and accessibility are the two qualities you wish to see in your storage providers. In fact, these are the two qualities you wish to see in any service provider. No matter their area of expertise. Thus, you will be happy to know that our storage locations are close to highways and public transportation with free and unlimited parking for all of our customers. NYC Mini Storage is also a company that is open seven days a week, as we want to be at your constant disposal.
With our business storage in NYC, you get to be in charge. We let you reserve a unit that you think will be of the perfect size for the number of items you plan to store. From renting a small storage unit to opting for an entire floor, all options are within your reach. Bear in mind that we always have on-site storage personnel who will be happy to help you solve any dilemmas. That's our job, after all.
NYC Mini Storage is the right choice when dealing with storage projects of all kinds
Consumerism is getting out of hand. And so is our constant need for more space. That is why every person finds himself/herself in need of storage at some point. Your need for a safe place to store your private or business belongings comes on suddenly. Once that happens, you needn't panic. Nor spend days of your life on online research for the finest residential or business storage NYC currently has.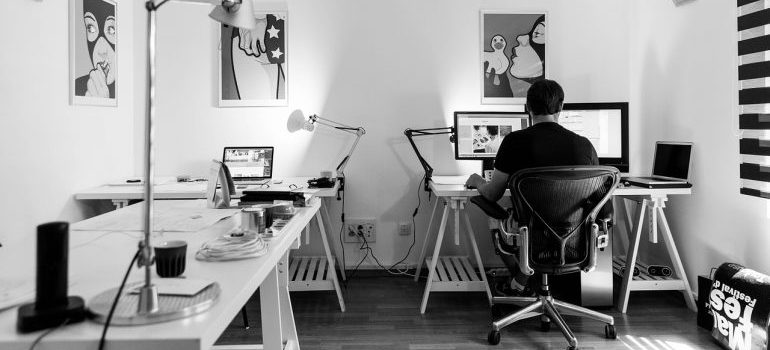 All you need to do is take a look at our comprehensive list of storage services in NYC and take your pick. Our offer of storage services consists of:
Furniture storage
Student storage
Small storage
The goal of our company is a pretty clear-cut one. We aim to be the one company that you can turn to for all of your storage projects. And when it comes to storage projects, the ones where you have to store commercial items bear special importance. After all, this is the future of your business that we are talking about. As a business ourselves, we can certainly appreciate the raised level of concern you are feeling for your items. But as long as you know that we treat your items like our very own, you'll know that there is no cause for concern when using our NYC commercial storage.
Turn your project into a success story with NYC Mini Storage by your side
To get full access to commercial storage units NYC loves, all you need to do is contact NYC Mini Storage. Our company is the bearer of all the necessary licenses, and we are in possession of storage units in various sizes. With short-term and long-term storage plans at your disposal, you'll be able to make the best decision for your business, and you'll do so at a competitive price.