Storage Pickup Services
Save time and money on fuel by opting for NYC Mini Storage pick up solutions, free of charge.
The perfect storage solution for you is convenient, accessible, and affordable – the three qualities that perfectly describe our storage pickup NYC services. At NYC Mini Storage, we aim to provide you with as much help as you need so that you can get the job done quickly, easily, and at the right point in time. Whether you are moving, remodeling, or simply storing some items, there's a chance that you will require a storage solution at some point. In case you've found your perfect unit but are troubled by the thought of getting your items to the facility, you simply ought to pick up your phone and give NYC Mini Storage a call. With a large truck and professionals who can navigate the streets of NYC, we'll take care of this task for you.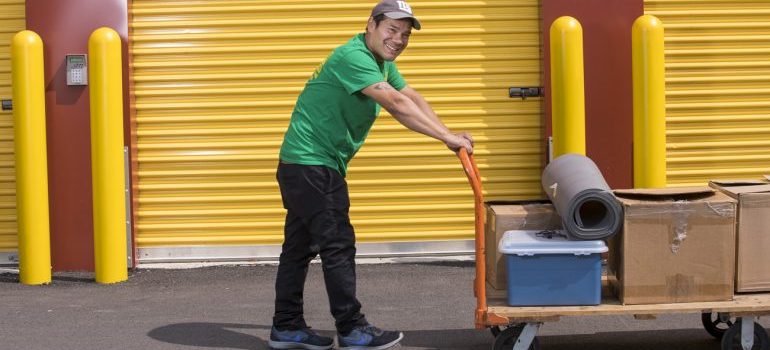 Be fully covered with the secure units and convenient storage pick up service of NYC Mini Storage
There's no doubt about the fact that the need for storage will arise at some point or another. Once it does become prominent, you'll need to find an accessible and safe storage solution. When looking for self-storage NYC services, you ought to look in our direction. NYC Mini Storage provides you with multiple NYC storage services which aim to cater to the different needs of our customers, such as:
Furniture storage
Student storage
With the right unit leased for the duration of time that works best for you, the next step is finding the best storage companies that pick up belongings. With NYC Mini Storage, you won't have to look far. We give our NYC customers the option of picking up and driving their belongings to our safe and secure storage facilities for free. Keep those items that matter most safe and protected with our professional NYC storage pick up service by your side.
The cost of our storage pickup NYC services is the reason you love us
NYC Mini Storage offers a self storage pick up service at a great price – FREE! Call and inquire about our free self storage pickup NYC options and we'll schedule a time for you ASAP. Once you start working with our team, you'll notice that affordability is one of the qualities we are most proud of.
We understand that storage can be a pricey luxury, especially if you plan to store your items long-term. However, we don't find storage to be a luxury – it's more of a necessity. Thus, we want to provide you with competitively priced pick up and storage NYC services where the pick up of your belongings is absolutely free of charge. Request a free estimate from our team in order to gain insights into the prices for our numerous services.
https://https://nycministorage.com/get-storage-estimate/
How do our pickup storage NYC services work?