Self Storage
Declutter your personal or professional premises by placing excess items in our cost-effective self storage NYC facility.
The need for extra space arises mostly when people decide to relocate or to have their homes remodeled. In a situation of this kind, they give up on items they cherish without knowing that there is a better solution. You can avoid getting into this situation and store your belongings in a safe place. With NYC Mini Storage you can have all the space you need, without sacrificing any item you worked hard to obtain. Give us a call today, reserve your space in self storage NYC relies upon, and keep improving your life without hindrances.
You should be in a situation to live your life with no pressure
Every person, regardless of who they are, where they live, or what they do, seeks to elevate their quality of life. One of the major points in that quest is improving your immediate surroundings. However, it is also one of the greatest tripping stones. Because, to enhance your space, first, you need to have enough of it. And, this often means getting rid of a fair share of your belongings, to make room for those that fit your needs and lifestyle more. But, how to decide which of your belongings should you discard? Well, quite simple – you do not! Rely on storage in Manhattan NY and you will know that your belongings are in a safe place.
Everything you are looking for in secure self storage NYC facility you will find in NYC Mini Storage
Over the years, NYC Mini Storage gained significant renown, both within the industry and the user population. We built our reputation of excellence through:
Offering safe storage services in NYC at affordable prices.
Understanding our clients' storage needs and offering great care and dedication.
Utmost professionalism and conscientiousness when handling our customers' belongings.
Our mission is to provide safety and convenience at all times while remaining budget-friendly. And, to that end, we spare no effort or resource. Renting self storage first month for free is just one of the benefits you get from renting some of the safest storage units Manhattan offers.
Ensuring the safety of your possessions has never been easier
Many situations and undertakings in life beg the need for secure self storage in NYC. Maybe you just moved to the city and need a safe staging area, while scouting for that perfect place to call home. Perhaps you are remodeling and need a short-term solution to keep your items safe and out of the way.
Or, maybe, there is a new family member on the way. So, now, you need to turn that extra room you used for storage into a nursery. Regardless of the reasons behind the change, one thing remains essential: the need to keep your belongings safe at all times. And, today, with NYC Mini Storage, that is one goal you can easily achieve.
The safety of your belongings is our primary point of focus
NYC Mini Storage is well-aware of the significance life-changing events carry. But, more than that, we know how challenging each one is. That is why our self storage NYC specialists work tirelessly to eliminate a major stress factor from your transition: agonizing over your belongings' well-being. We take your need for safety with utmost seriousness. And that is why we made our secure self storage NYC facility into a fortress, boasting:
Professional surveillance systems with 24-hour coverage;
Advanced anti-intrusion alarm systems;
24/7 on-site security guard;
Fireproof storage solutions;
Climate-controlled storage options;
Cleanliness and regular maintenance;
Proactive pest control and prevention.
As you can see, with your belongings in a highly safe storage space Manhattan has to offer, you can rest easy. With us, you will know they are safe and sound, at any time of the day. We are here to give you peace of mind, so essential during turbulent times. And, thus, enable you to address these life-defining changes unburdened by worries and cares.
Find the right NYC self storage method with only a minimal effort
Not every life-changing event is the same. Each one carries different challenges and requires a different approach to deal with them. The same is true when choosing a storage method. Your household or business is unique, in every regard. Therefore, it takes the right NYC self storage solution, to answer your specific needs and demands. Fortunately, finding those solutions becomes effortless with NYC Mini Storage. We offer a full array of self storage options, fit for any situation:
Now, we know that this list is quite extensive. And, as such, a bit intimidating to choose from. Fear not – our specialists stand ready to assist you and make it easy. Courteous and knowledgeable, they will help you find the right mini Manhattan storage for your needs and your budget. With us, you are not wasting a dime or a minute more than absolutely necessary.
Our NYC self storage options boast amazing affordability
Aside from safety, budget-friendliness is the next major trait of our services. Although we are already one of the prime NYC self storage providers, we remain incredibly competitive. And, that is why we offer complete services at the most affordable rates in NYC. Moreover, you are getting self storage first month free – regardless of which long term option you choose. But, the benefits do not end there.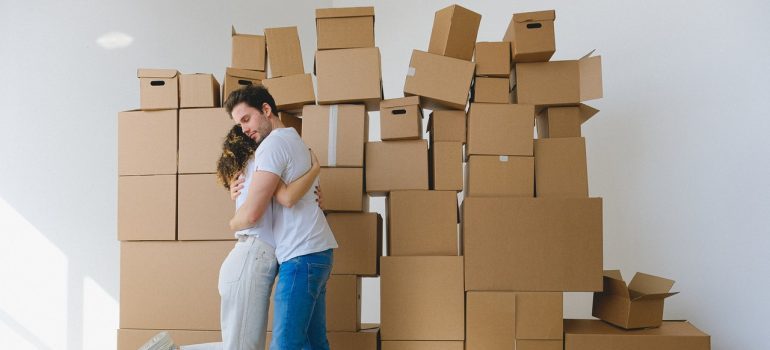 Highly safe Manhattan storage NYC offers is your best choice. Should you need some additional pieces of information, remember that our representatives are always at your disposal. We are going to be there to help you with everything you may need.
Unparalleled convenience – a given, with our self storage NYC services
The astounding convenience we offer to our customers is the final trait that defines us. Also, it is what makes us the prime NYC self storage company:
Get free storage estimate and you will find one of the best storage facilities Manhattan has to offer;
Reserve the storage unit of the right size and type with ease;
Access to your belongings any day of the week;
You can reach our location from all major NYC highways, as well as subway and bus lines.
And, if getting self storage first month for free is not enough – we offer more! When you opt for our services, you can avoid the hustle of NYC. We made our storage pickup service in NYC available to our customers, again – completely free! Our professionals will come to your NYC place, and pick up the belongings you already packed. No back-breaking, no combating traffic, no unnecessary risks.
What to expect from your new life in Manhattan?
There are many things you probably already know about Manhattan. This is precisely why you have decided to call it home. However, we would like to let you know some additional, yet crucial pieces of information. In this way, you will know precisely what to expect when you get there. Just make sure you start searching for an apartment on time. A great number of people would like to live there, which is why some of them are looking for a home for months.
It is a well-known fact that this is a highly expensive place to live in
If it happens that you are relocating alone and you would like to live by yourself, you will have to pay the rent of about $2,000 to $4,000 a month. In case this is too expensive for you, start thinking about finding a roommate.
The rent is going to be much lower, but you will not get to bring all of your items with you. Until you find the perfect solution, count on climate controlled storage Manhattan offers. Your belongings will be in a safe place, and they will remain in perfect condition.
You are not going to need a car for living in NYC
New York City is one of the most walkable cities in the USA. The public transportation here is more than great. In addition to this, you will reach your destination much faster if you rely on public transportation. Therefore, if you have a car, it would probably be a good idea to sell it. You will get to save money on gas, insurance, car maintenance, and car payments. In this way, you are going to have more money on you for your new life in Manhattan.
Manhattan is a highly safe place – this is something you are going to like
Since this part of New York is very busy and highly popular, you are going to feel safe even at night because all of the streets are well-lit. Considering the fact that this is a city that never sleeps, you are going to be surrounded by people even after a night out.
In case you have a chance to live with a friend or relative of yours, it is going to be a great solution. This will make both of you feel much safer and you will have nothing to worry about.
Secure self storage NYC residents want in their neighborhood – now within your reach
In order to make tough times easier and improve your life, start with small steps. But, when one of those steps is choosing self storage NYC relies upon – it is a giant leap in the right direction. With NYC Mini Storage, you are getting security, convenience, and affordability – all the way, every step of the way. Reaching some of the highest-quality self storage Manhattan offers is simple – just pick up a phone and call. Contact us today and reserve your place in the space that makes life better. When there are fewer items around you, it is much simpler to organize your home and put everything in its space.