Vehicle Storage
Save your nerves on parking expenses in NYC by leaving your vehicle in our monitored and insured storage NYC facilities.
Owning a car or a motorcycle in New York City may help you get around, but parking will be a challenge for sure. NYC Mini Storage has the solution – store your vehicle with us and you'll never have any issues with parking it ever again. Our vehicle storage NYC keeps your car safe, protected, and conveniently available so that you can enjoy the freedom of driving around the city without having to pay exorbitant fees for parking that isn't worth the price. So get in touch with us and let us store your vehicle short-term or permanently – in addition to cars, we are equipped to handle motorcycles, vans, SUVs, RVs, and even boats!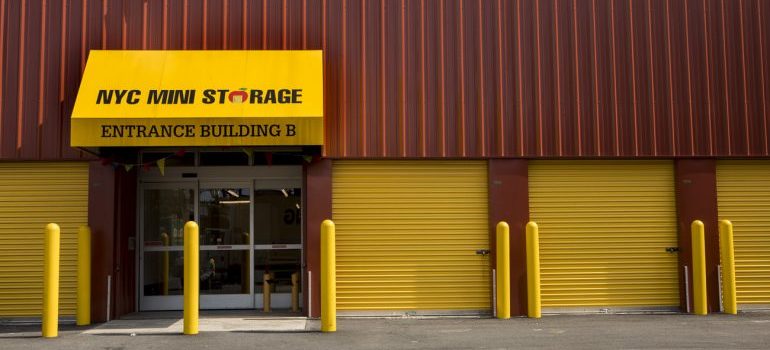 Our NYC vehicle storage is the solution to all your parking problems in New York
Parking in NYC can be incredibly frustrating and expensive especially if you will be going out of town for a while. Street parking is a no-go as there are not nearly enough vehicle parking spaces; chances are your car will need to be moved before the week is up. Paying a monthly car parking fee seems excessive when you won't be using any in-and-out privileges.
There is an alternative – storing your vehicle with our professionals is an excellent option when you know you won't be using your car. The best part is that you will still have easy access to your vehicle when it's in our storage. So if your plans change and you need your car unexpectedly, just schedule a visit to our facility. Your vehicle will be kept clean, safe, and in good condition. You don't need to worry – you can drive off whenever you need. Request your free storage estimate and reserve your room today!
NYC Mini Storage provides a variety of vehicle storing solutions
Whether you are looking to store a car in NYC for a few weeks or park your boat somewhere until the next summer, we can accommodate you. Our team is equipped to handle all of your NYC vehicle storage needs and our location allows us to offer storage for vehicles other than cars as well. If your RV is taking up too much space or your boat needs a place for the winter, we've got you covered.
In addition to the car, RV, and boat storage, our facility can also handle the storing of motorcycles, vans, SUVs, and trailers. All we ask is that the vehicle is smaller than a truck and is in drivable condition; all boats must, therefore, be stored on a trailer.
We offer a variety of storage services to ensure that you get all the help you need. In addition to NYC vehicle storage, you can have:
Regardless of the type of storage you choose, you will get a clean and secure unit in a modern facility where your belongings will be well taken care of.
Your vehicle will be safe in our vehicle storage NYC
We know that safety and security are important when it comes to vehicle storage in NYC. With our 24-hours security and fully insured vehicle storage, NYC Mini Storage has your back. We will treat your vehicle as if it were our own because we understand how important it is to you. We use surveillance cameras, alarm systems, fireproofing, and climate control to help us keep a close eye on your car. Your vehicle will, therefore, be in safe hands if you choose to leave it in our well-lit fenced area with security guards.
Easy access to your vehicle
The point of owning a vehicle is being able to use it. We understand how important this can be, especially when you're only storing your car short-term. Contact us during business hours and we'll make sure to arrange a suitable time for your pickup. This way we can make certain that your vehicle is ready to go or clear its path during the winter.
We will take good care of your cars, bikes, and other vehicles
If you're picturing storage as a dark, dusty room where your car goes to die – don't. We keep our facilities clean and perform regular maintenance. All our security and climate systems are up to date and functioning perfectly. While we don't perform vehicle maintenance, we make it easy for you to do so. Prior to reserving your room and storing your vehicle for a longer period of time, it's important to provide routine maintenance before you drop off your keys:
Completely clean the car, inside and out
Replace the lubricant
Disconnect the battery (once it's parked in our lot)
Change the oil and filter, anti-freeze, power steering fluid, transmission fluid, and brake fluid.
Make sure the tires have proper air pressure (if storing for a long period perhaps keeping the vehicle on blocks is the right for you).
Cover the vehicle (although this may not be possible for all vehicles it's an easy way to prevent unwanted problems.
You can visit your car any time to take it out for a ride, clean it, or just check on it. We keep our storage in top condition so there is no doubt that you'll find your vehicle in the same condition in which you left it. There's no need to stress – we take good care of all your vehicles!
Contact NYC Mini Storage and get the perfect space for your vehicle
If you're a New Yorker in need of extra space for your vehicle, don't hesitate to get in touch with us. Tell us what you need and we can work up an individual storage plan for you. You can get a free estimate on vehicle storage NYC to compare prices. We are confident that you will choose NYC Mini Storage – our affordable rates make us a very cost-effective solution. So for all your vehicle storing needs in NYC, give us a call!